Rocking K Pictures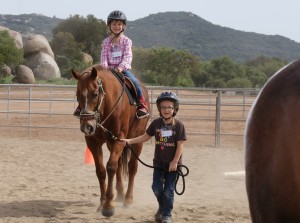 Horse Programs designed for ALL LEVELS of Girl Scouts San Diego/Imperial Council troops
For over 16 years we have offered specially designed horse programs for ALL levels of Girl Scouts. Program participants experience horse programs ranging from two to six hours in duration. Utilizing the patience of our beautiful and gentle horses, our programs couple direct interactive instruction structured on a solid foundation of leadership and safety. Program participants will receive bottled water and snacks, fun patch(es), badge (Junior troops only), certificate, and a discount good toward future participation in any Sebesta's Rocking K Ranch program. We always have a current proof of liability insurance on file with Girl Scouts San Diego/Imperial Council.
HORSE FUN PROGRAM– Appropriate for all troop levels, this 2-hour program emphasizes the importance of being an assertive leader when handling horses. Expect direct interaction with our patient, attention loving horses. While there is no horseback riding, it is a perfect introduction to our Horseback Riding Program. Tuition: $40 per girl
HORSEBACK RIDING PROGRAM – Appropriate for Daisy level and up, this generous 3-hour program includes up to two hours of horseback riding. Safe, affective horsemanship and leadership skills are taught to and utilized by the girls. A strong sense of accomplishment is achieved when the girls effectively control their horse with their new skill set. Riders will independently* navigate through our trail obstacle course by program's end. * Due to our compliance with GS' Safety Wise Guidelines, Daisy girls participate fully, but may not ride independent of a ground leader during this program. Tuition: $75 per girl
COMBINED PROGRAM – Participation in both programs provides a perfectly balanced horse experience for all ages. Up to five hours of engaging hands-on, confidence building time spent with our patient, well-trained horses. Participation in both programs also gives more riding time. We have picnic areas for you to enjoy your troop supplied lunch between programs. Tuition: $90 per girl (a $25 savings!)
JUNIOR HORSEBACK RIDING BADGE PROGRAM – A 6 hours badge program for Junior Girl Scouts only. This program meets all requirements necessary to obtain the Junior Horseback Riding badge. Tuition: $100 per girl
TUITION includes: use of our equestrian helmets, bottled water, snacks, Certificate of Participation, fun patch or badge, and a 5% discount good toward participation in any of our instructional programs.